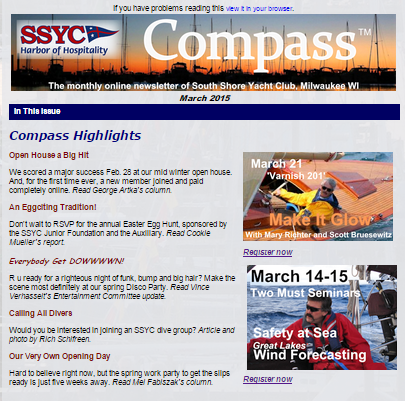 Advertise in The Compass
The Compass is published monthly and distributed to members of South Shore Yacht Club and anyone else who subscribes to our club newsletter. The following ad sizes are available and can be purchased for a set number of issues or can be run until canceled by the advertiser. South Shore Yacht Club reserves the right to reject any ads and may restrict the number of ads placed in a particular issue.
Ads must be submitted as publication-ready image files in either PNG or JPG format. Transparent PNGs are preferred. A logged-in member can submit an ad through the Compass Submissions side menu under For Members/Members Home. To become a new advertiser, please contact the Publications chairperson. Please note that SSYC does not provide copywriting, layout or graphic design or marketing and advertising advice to our sponsors, member or non-member. Any such services must be secured privately by you.
Ad Specs and Pricing
| | | |
| --- | --- | --- |
| Width in Pixels | Height in Pixels | Cost per Issue |
| 225 | 225 | $14.25 |
| 475 | 225 | $19.00 |
| 225 | 475 | $19.00 |
| 725 | 225 | $28.00 |
| 475 | 475 | $34.00 |
| 725 | 475 | $45.00 |

Sample ad sizes: