January 2021 Compass
If you have problems reading this

view it in your browser

.

January 2021
From The Helm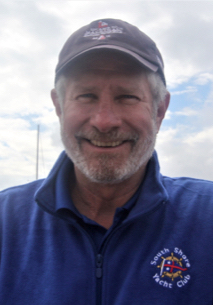 by Pete Engel, Commodore
As you may already know, we closed the club on Friday due to a positive COVID test by one of our employees. While we have not had any other employees report symptoms, we believe that we must maintain our club as a safe place to socialize. Therefore, before we re-open we are requiring our staff members to get a negative COVID test before returning to work. We will also be doing a thorough cleaning of the club. We hope to re-open on Tuesday, January 12th depending on results of the COVID tests.
Al & Erv Nickel Award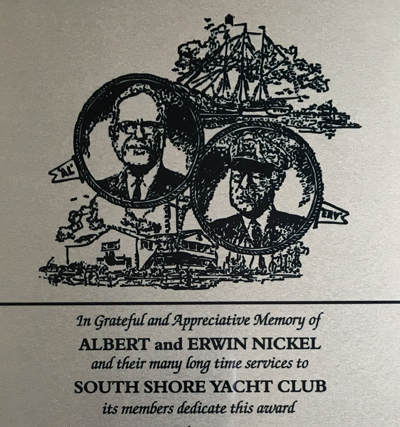 The Nickel brothers, who joined South Shore Yacht Club shortly after World War I, gave long and dedicated service. Al was secretary, treasurer and Compass editor for over 30 years. Erv performed a variety of tasks during the period. Both provided steadying influence during the perilous period of the Great Depression. Their leadership touched the lives of many at South Shore.
The idea of an award to honor them, endorsed by many, was formalized in the spring of 1971.
It is to be awarded each year to a member in good standing for contributions to South Shore Yacht Club representative of the high standards set by Al and Erv Nickel.
This year's recipient of the Al & Erv Nickel Award is Mark Humphrey.
Mark has been a member of the board for many years serving as Treasurer and Insurance committee chairperson. Past Commodore Jerry Kedziora and I have benefitted greatly from his dedication and the many hours he contributes to the board. Mark's leadership and judgement have been a major factor in how we handled the many crises the club has experienced this year.
As Treasurer, managing the club's funds was a major effort in which Mark excelled, resulting in ending the year in a sound financial shape.
Little did Mark realize that his involvement in the insurance committee would lead to so much work. Mark masterfully managed the handling of our insurance claims and was the club's project manager on all of the dock repairs.
Mark has participated in every Grounds and Slip Committee work party. He even dedicates his Thursday mornings along with Jerry Kedziora to build finger pier palletes.
On behalf of myself and all of the membership we are sincerely grateful for Mark's service to the club.
Please join me in congratulating Mark Humphrey on receiving the Al & Erv Nickel Award.
Slips
If you are considering getting a slip at South Shore, this is the year to get that slip you have always wanted as there will be many open slips to choose from. Because we have three months before we have a better idea of the marina conditions for the summer, we have created a refund policy that minimizes the financial risk of leasing a slip in 2021.
If for any reason the slip you lease is not available in 2021 or you notify the club in writing by May 1st that you are not going to put your boat in your leased slip in 2021, we will refund the slip fees paid and apply your deposit to 2022. For full details on the 2021 slip refund policies contact the club office.
Breakwater
The County's deadline to file an appeal with FEMA to receive disaster funds for breakwater repairs was this past Friday. I am conducting ongoing discussions with the County regarding short term repairs to the breakwater nearest to our slips. This winter, lake levels are seasonally dropping consistent with historical rates we have experienced in years past. Last year the lake levels did not drop over the winter resulting in the record high levels by summer. If you haven't been to the club in a while here are some comparison photos.
August, 2020
January, 2021

Ryan Clancy, the County Supervisor for the Bayview area, reported on the County's plans for the South Shore Breakwater in his Winter newsletter.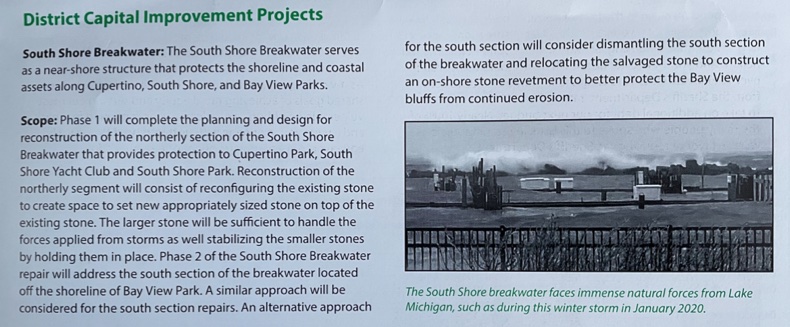 General Membership Meeting
If you missed the General Membership Meeting in December, the meeting minutes are posted on the Member Bulletin Board section of the SSYC website. See Tony Hetchler's article about the bulletin board in this issue of the Compass.
House Committee
By Dick Olson, VC
House Happenings!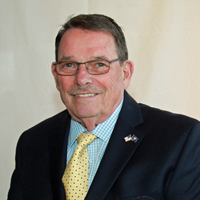 That pesky 2020 is now in our wake and it's time to get the House ready for 2021
Annual Clubhouse Scrub-down: Please consider volunteering for one of the many cleaning projects that need to be finished by March 1st. We'll start with the lower level due to the construction in the dining room. If you're willing and able to help, please call the office to tell them what time you're coming between Tuesday and Thursday 10AM to 4PM starting on January 12th. We'd like to keep volunteer groups to 4 or 5 people at a time to maintain social distancing. When you arrive at the club, ask the office staff for the check list of projects and pick out what you want to do. Supplies will be located near the bulletin board by the north hallway. This is totally different from previous clean-ups in that we are asking for everyone to come in for a couple of hours. If you have any questions, contact Dick Olson.
"Construction Zone" The repairs for the dining room ceiling and roof will begin on Monday, January 11th. This project will last 6-8 weeks with completion by the 1st part of March. The Commodores Cove dining room will be closed during the construction. The kitchen will remain open at posted hours. Friday Lunch and Dinners will be served in the Lakeside Lounge. Watch for the email blasts and changes on the website calendar.
Food & Beverage Updates: Note that our hours will be varied during the construction process. Check the website and email blasts for updates. Thank you for your patience and we can't wait to have a Grand Re-Opening soon!
Carry-out Orders On-line: Online ordering from the weekly and Friday menus will be available throughout the construction period. Go to: https://www.ssyc.org/ and right there on the Home Page, click ORDER HERE. You can choose to 'Pick up Now' or at a later time, and order from the Kids Menu, Grill Menu or specials. You can pay with a credit card or your member number. Many members have been using this option, which is available to all members.
Happy Hour: Don't forget to stop down for Happy Hour Tuesdays – Thursdays from 4 - 6 pm. Enjoy drink and appetizer specials. $1 off beer, wine and cocktails.
COVID-19 Reminder: The COVID Safety rules are enforced by the City of Milwaukee Health Department, not SSYC or our bartenders. They are visiting establishments and the fines are $5000 per incident and possible loss of license. You'll see signs throughout the Clubhouse, so please comply with these regulations.
Overcrowding in the Closet: The coat closet in the Lakeside Lounge has begun to look like a storage area. Please remove any equipment and boxes by January 15th. Any items left will go in the dumpster. Thank you for your cooperation.
Wii Plea: The Wii console in the Lakeside Lounge has failed and can't read the disks. If someone has one they would care to donate, we can use it! Contact Dick Olson. (DickOlson@plasticrep.com)
We appreciate your support, look forward to seeing you at the club and hope you Stay Safe!
Compass Sponsors
Slip Committee
by: Glenn Pointing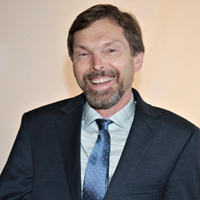 Your South Shore Yacht Club Slip Committee would like to remind you of some particularly important dates that are coming soon. It is especially important this year that every member fulfills their responsibility by adhering to these dates – your slip depends upon it!
January 11th, 2021: Last day for slip change and slip waiting list applications to be received by the office
January 13th, 2021: Last day for the office to receive payment of arrears amounts due from members not in good standing if they wish to participate in the slip change meeting. After this date members not in good standing who would be renewing a slip will lose any rights to their current slip. Stay off the naughty list!
January 16th, 2021: Slip Change / Slip Assignment meeting will be held virtually starting at 9:00 AM
January 23rd, 2021: Alternate Slip Change / Slip Assignment meeting date
The Slip Committee would also like all members to know that due to COVID 19, this year's meeting will be held virtually on Saturday January 16th. We will email an invitation with login information to members on the slip change and slip waiting lists. Be sure the office has your correct email address and phone number. Your phone number is an emergency back-up option in the unlikely event of a technical problem. Also, different this year are the starting times for the meetings.
The Slip Change portion of the meeting will begin at 9:00am and go until 10:00am

The Slip Waiting List portion of the meeting will begin at 10:00am and go until the last slip has been assigned

It is recommended that you log into the meeting 5-10 minutes before the start to be sure you are ready to go when it is your turn
To help with this process, please look at all of the information available on the Members Home page (a sub-menu item under For Members) on teh SSYC website to see a hand drawn slip diagram, a printout of a color-coded spreasheet showing available slips (as of the start of the meeting) and a copy of the slip diagram in the foyer (showing slip holders). If you are logged in to the site you can also see the list of individuals who are looking to change slips or requesting a slip for the first time.
If you are unable to attend virtually, please notify the office so that other arrangements can be made that will allow you to participate in the meeting. We can only accommodate a small number of people who genuinely cannot participate virtually.
Finance Secretary
by: Brad Kyle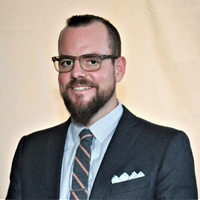 I hope everyone had a safe, healthy and happy holiday season. I extend my thanks all of the members who attended the General Membership Meeting virtually and also to those who submitted questions to me directly (via Brad@SSYC.org). I am striving to be as transparent as possible with members regarding the Club's financial standing, so please do not hesitate to contact me with any questions. There are not any new or pressing financial updates at this time, and I look forward to a strong membership showing at the Virtual Slip Change Meeting on January 16th.
Lastly, I understand that the holiday season is very hectic for everyone, however please take a moment to check your account status on MYSSYC (member.ssyc.org) and ensure that your payments are current. Cash flow is essential to the financial health of our Club, and I cannot emphasize enough the importance of your timely payments. Many thanks to those who are up-to-date on their dues and fees, and also my gratitude in advance to those who recognize a lag in their payments but are utilizing the friendly office staff or our online payment system - just after reading this - to make their accounts whole again!
I wish each and all of you a Happy New Year and the best in 2021!
Corresponding Secretary
by: Tony Hetchler
In an effort to keep everyone better informed, I have created a new virtual "Member Bulletin Board" on our web site. In addition to our normal means of communication (Email, US Mail, Clubhouse Bulletin Board), we will use this new virtual Member Bulletin Board to post copies of our general membership meeting announcements as well as minutes of those meetings.
To access the virtual bulletin board, you must log into SSYC.ORG using your normal User ID and password. Then select "For Members" on the top ribbon. You will see "Member Bulletin Board" as a button on the bottom of the navigation bar on the left side of your screen. If you need assistance logging in, please contact me or Laura Jerominski in the office for assistance. See below for more information:
Membership Committee
by: Becky Archibald, RC
Happy New Year to old friends and new!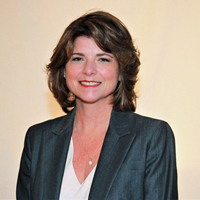 Each year on January 1st, SSYC members of 30 years or more who are at least 60 years old are qualified to become Life Members. The membership committee and I thought it would be nice to share some memories from a few of these members about what they love about SSYC and the lasting impact each of them has had on our club (in their first 30+ years).
Ellen Sweetman became a life member in 2020 having joined as an Associate member in 1979. Ellen was SSYC's very first woman member. With her family, the Sabinash's, she has always sailed and raced their J35 Sabotage. She credits her family with bringing many new people to love sailing and racing as much as her family and notes that many of these friends have become members of the club. Her favorite memories at the club are the after-race parties where she can meet new people and get to know them. She appreciates the comradery she feels at the club, "You can feel at home at SSYC - it's not a pretentious yacht club."
Dave Tucholka is a Past Commodore of SSYC who joined in 1991, becoming a Life Member this year. He loves everything about SSYC, especially the friendly people who are always willing to help out. He owned a 37 ft Chris Craft, Marquis Gold and led the powerboat committee for many years. He was proud to carry on the work of Ray Dziubek in bringing powerboaters and sailors together for fun activities for all club members, not just for powerboaters. (A tradition that Robert Roberson continues!) Dave's favorite memory is how he and his wife Nancy were a color coordinated team at SSYC - always wearing the same color shirts/tops. "Nancy's idea-not mine!"
Gary Hamilton became a Life Member this January 1st, having joined as an Associate member. He and his wife, Angela own Neverland and he hopes to sail and race her again with his daughters in 2021. He likes that SSYC is family orientated, including the great Junior program that all four of his daughters went through, "Thanks Cookie!" His favorite memory is racing with the 210 Fleet – he was a fleet captain. He loved 210 'Lawn Sailing' after races, drinking beer and rehashing the races! He also especially liked how families used to race against each other and encourage their kids to be sailors and racers. The Sabinash Family on Sabotage, the Rakowski Family on Exit, and the Hamilton Family on Nanjack.
Dave Blomberg is both a sailor and a powerboater. He used to own a trawler called Growler, which he lived on in Washington, D.C. He became a Life Member in 2020 at age 73 having joined SSYC in 1990. He's helped out at numerous work parties over the years and volunteers with the Sea Scouts, helping young kids have access to Lake Michigan and sailing. He loved the parties at the club, sailing on TARDIS and making life-long friends. When asked what he likes most about SSYC, "People. View. Racing." Dave wanted us to share this message for other SSYC life members, "If you can afford to help out the club with a donation to get through these tough times, please do."
Pete Engel joined SSYC in 1991 and became a Life Member this year at age 63. Pete became interested in sailing on the sailboat TARDIS racing numerous Hook and Mac races. Pete and his girlfriend now wife, Lynn, purchased their first sailboat ISLAND TIME which was located in the slip next to TARDIS. In 2004 Pete bought the sailboat ROGUE and has raced it ever since. Pete said, "the club has been a constant in my life where I always enjoy boating and being with the good friends I have made at the club over these many years". Pete has served on the Board of Directors as Publications and Queen's Cup chairperson and is the most recent Commodore.
We will continue to highlight new members and new life members throughout the year to share your memories and contributions to South Shore Yacht Club.
Please contact me if you have a story to tell or would like to help on the membership committee.
Entertainment Committee
by: Tony Hetchler
Now that a COVID Vaccine is here, we are optimistic that we can start planning for a return of some of our favorite social events in 2021. We anticipate continuing to have a quiet first quarter but will start looking toward the late Spring with cautious optimism. I will be hosting a virtual Entertainment Committee meeting in January to look at our calendar and start brainstorming around some exciting events to help us put 2020 firmly in the rear-view mirror.
We will plan for many of our traditional events but want to include a variety of others as well. Final selection of these events will be a challenge given our shortened year so, once the Committee has met, look for a survey for you to help us rank your favorites. Some of the current front-runners are noted below (Dates are TBD):
Kentucky Derby Party
Review of the Fleet
Dancing Under the Stars – Black Tie Optional with a New Year's Eve theme
Corn Roast
Octoberfest – Traditional German food, beer and music under the tent. German attire encouraged
Halloween!!!
New Year's Eve
As always, we welcome your ideas and your feedback. Help us create a strong comeback and make Summer 2021 one for the record books!
Juniors Committee
by: Rena Fischer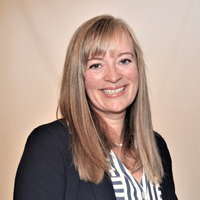 Happy new year SSYC and community members! After the first snow on Wednesday, Dec. 30, 2020 a small group of Juniors cleared the heavy snow at the yacht club to help Scott Bruesewitz retrieve Junior boats that need to be repaired. The group of Juniors also helped Dockmaster Ken, whose snowblower was not working at the time. Thank you to the many adults involved in being understanding and accommodating about the Juniors needing to access the boats for repairs!
On January 14th, we are hosting a Lasagna Dinner to help raise funds for items needed to repair our fleet. Details for the dinner have been sent via club email and are posted around the club.
Our next meeting for the Junior Advisory will be held virtually on Thursday January 18th from 6:30 – 8pm. Please email me for details and I can send you a link for the meeting. The Junior Advisory Committee is for open to any adult/parent of a junior who wants to help the advisor get things done for the Junior organization. This job is immense and there are plenty of volunteer opportunities.
We are also in need of a Kaszube Cup Regatta Coordinator. If you enjoy leading a team of experienced, motivated volunteers, then this position is a fantastic and fun way to earn your volunteer hours!
For more information or questions on how you can volunteer with the SSYC Junior Organization, contact Rena Fischer: junior.advisor@ssyc.org.
If your child plans to take lessons this summer, be sure to renew your Junior membership before sailing class registration begins. Membership renewal can be found at ssycjuniors.org Additionally, if you know a family interested in having their children learn how to sail, please send me an email with their contact information.
All the juniors and I hope that you stay safe and have a happy new year!
Juniors help shovel after a December snow storm. Junior Lasers are moved into Scott Bruesewitz's shop for repair.
Compass Sponsors
Juniors Report
by: Paul Kullerstrand
Happy New Year SSYC club members!
I am very excited about this new year and look forward to all of the events that we will host and participate in. In December, our organization worked hard to plan events and prepare for the coming season. This month, some of us volunteered to shovel snow around the Junior Clubhouse and move boats to a warehouse for repairs. Along with that, some of the junior boys and I went sledding over our winter break. We drove out and met up at the hill at Whitnall park to sled for awhile. Like everyone else at the park, we made sure to wear our masks and stay socially distant while having a good time.
In other news, the juniors have started our own boat and sail repair committee headed by Scott Bruesewitz and Tom Pease. We believe that it will help our sailing team to have people who are very experienced in fixing boats help us maintain our fleet should anything happen to our boats. On top of adding this committee, the juniors are also offering sail and boat repair classes. There are two classes available for juniors, one is a sail maintenance class and the other is a boat maintenance class. For the sail maintenance class, junior members ages 10 and up will meet every Saturday during the months of January through March to build skills to help repair and maintain sails. The boat maintenance class is limited to junior members 12 and up. Like sail maintenance, the juniors participating in this course will learn to repair and maintain the boats that they sail. Each of the two classes will be two to six hours long depending on the rigor of the lessons each day. They will be held at one of two locations, Scott's Boat Repair Shop (445 W Oklahoma Ave, Milwaukee, WI 53207) or the North Sails Sail Loft (520 S Water St, Milwaukee, WI 53204. If any juniors want to participate in the classes, send me an email at pjkullerstrand@gmail.com and I can forward you the information.
In order to facilitate these classes, we need help raising money and have decided to host a Lasagna Dinner. The event will take place at the club on Thursday January 14th. Reservations can be made on ssyc.org. This event will be similar to the Santa event where guests will drive through the club and receive their food from junior volunteers. Volunteers will be accepting donations at the event. Anyone who buys food at the event is helping out tremendously and donations will also be accepted. Proceeds from food purchases as well as donations will go towards: epoxy supplies, safety masks, particle masks, sanding equipment, clear coat & topcoat supplies, sail tape, and sail sewing supplies. Our goal is to raise $1,000. You can help us reach our goal by purchasing a delicious Lasagna Dinner or making a tax-deductible donation online at ssycjuniors.org.
Our next meeting junior meeting will be held Sunday, February 14th at 2pm.
All of the juniors and I hope that you stay safe and have a happy new year!
Compass Sponsors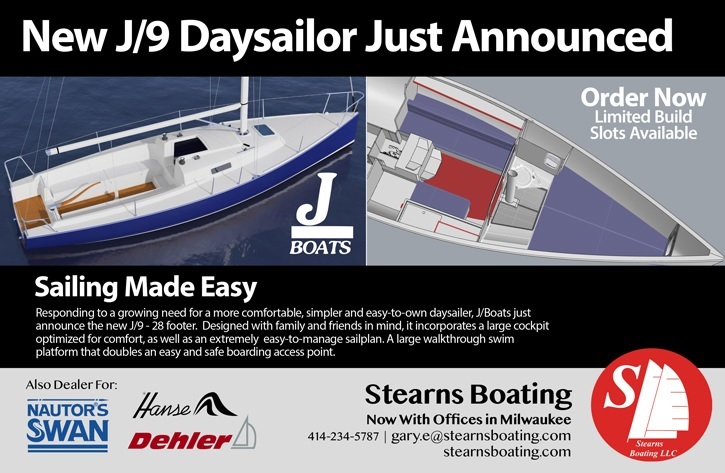 Dock Boxes
By Jerry Kedziora, PC
Has your dock box gone AWOL…?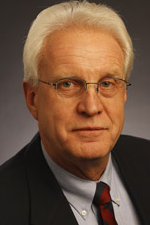 Here we are coming up to the one year anniversary of the big storm that took out our Club's docks and fingers. Besides the damage and missing finger pier pallets many of us also lost our dock boxes.
We may have an opportunity to purchase dock boxes at a reduced price depending on how many are purchased. One of our members has a great contact with a rotomolded dock box manufacturer who makes dock boxes from a very heavy duty rotomolded material using a similar manufacturing process as a modern kayak. They are reported to be very rigid. You can sit on them. They will not crack, chalk or yellow because they are 100% UV resistant and they come with all stainless steel hardware.
These dock boxes are the same ones used at McKinley on the center and south sections. So they have been tested and used in our environment and have a proven track record.
There are two sizes available. The large rectangular is 48" x 26" x 29" has a list price of $598.00. The small rectangular model is 33" x 20" x 26" and has a list price of $436.00.
If there are enough members interested we may be able to get a discount off the list prices and in addition, because they are manufactured here in Wisconsin and can be nested unlike fiberglass dock boxes we may be able to get a real good deal on much reduced shipping costs.
If you are interested in buying a replacement or are even interested in replacing yours with a new dock box because yours has seen better days, please contact me at: Jerrypremierappraisals@gmail.com or 414-218-7076 and if there is enough interest by Friday February 26th we will contact the manufacturer and put together a much better deal than if buying them individually.
Compass Sponsors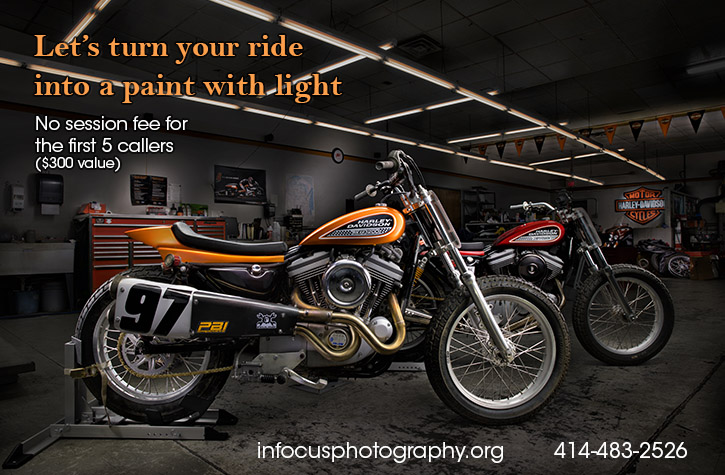 LMPHRF Update
by Dave Wehnes, PC
The Lake Michigan Performance Handicap Racing Fleet (LMPHRF) sets handicaps for all boats racing under the PHRF handicapping rule on Lakes Michigan and Superior (as well as a number of inland lakes). LMPHRF is now accepting applications for handicap certificates for the 2021 sailing season on its website (www.lmphrf.org).
The cost of 2021 certificates will be slightly lower than in 2020. Certificates will cost $40 if requested before April 1st ($60 if requested after that).
The LMPHRF Council of Handicappers is a group of sailors that meet six times per year and set the base handicaps for each make and model of boat that is raced within the region. In additon to setting those base handicaps, the Council establishes the rules that govern adjustments to those base values for changes in sails or hardware on specific boats.
The LMPHRF Council is comprised of individuals from yacht clubs around the lakes. Yacht clubs are allowed a certain number of positions on the Council based upon the number of boats holding LMPHRF handicap certificates within the club. There is an opening on the LMPHRF Council for an additional representative from SSYC. If you have an interest, please contact myself, Eric Jones, or George Gruebling and we can tell you more about what is involved.
The Rules, They Are a Changing
The Racing Rules of sailing are updated every four years. New rule books will be availabel soon from the US Sailing website. But if you are curious, a summary of the changes is available here.
Remote Control Sailing
by: Andrew Van Sickle, Fleet Captain
Small boat racing!
Racing in December in Milwaukee is hard to find, but the World Yachts DF65 fleet at SSYC still managed to run races in the horseshoe. As many as 12 boats showed up to brave the cold and battle it out to see who achieved the top spot. Dave Jerominski's #177 boat is hard to catch and managed to win the majority of races. Other notables include: Roy Reger, Lee Reger, John Sutphen, Jeff Bird, Mike Sabinash, Preston Wake, and Clark Fremgen. Thank you for all who came out and participated. We'd also like to thank our race committee volunteers: Erin Hill, Lisa Roeder, Heather Robertson, and Ron Jerominski. A final 2020 series tally will be posted soon.
Compass Sponsors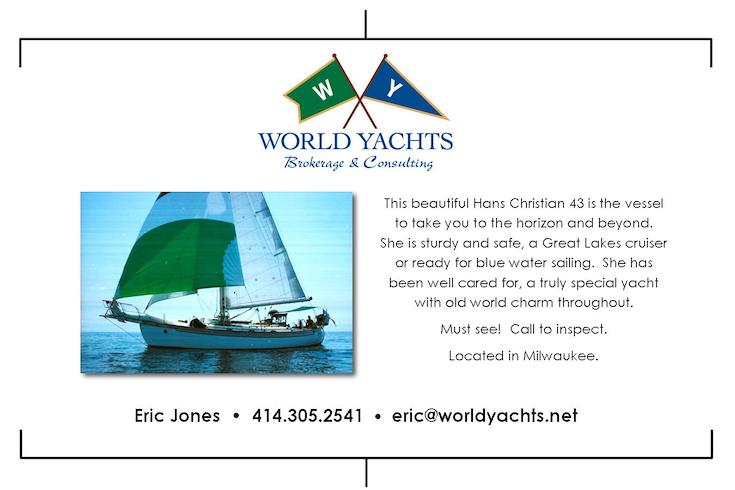 Publications Committee
by: Andrew Van Sickle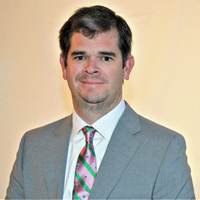 Did you know that that the SSYC Compass dates all the way back to our inception in 1913? The Compass is archived on the SSYC website and it's interesting to go back and read age-old articles of days gone by. Our new 'From the Archives' section of the compass allows a peek into the past. I found an interesting article from the January 1972 edition that mirrors the club's activities almost 50 years later. I hope to continue to dig up old articles to present to you.
Aditionally, a collaboration between the office and the publications committee to produce the members handbook is underway. We hope to have it completed in the next few months.
On a side note, my wife and I would like to thank the hardworking staff and volunteers that keep the club running smoothly. We feel truly special to be a part of this community.
Stay safe, and we can't wait for boating season so we can enjoy sunrises like the one pictured below.
Photo credit: Marti Cargile, taken 12/29/20

The Compass is distributed by the SSYC Publications Committee (Andrew Van Sickle). Contact Andrew.
Interested in advertising? See details.
To submit an article you must be a member. Submit online here. *Must be logged in.

All content in this newsletter ©South Shore Yacht Club
Unsubscribe from future mailings.