By Barbara R. Drake, Fleet Captain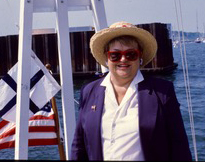 Greetings to SS-SSS sailors!
I hope everyone is well and surviving these unusual times. As many of you know, there will be no sailing events in the month of June. The decisions of how we will go forward will be made by June 1. If we do start a racing program on July 1, our fleet will be running the Summer and Fall Season races. We are not sure at this time if we will be just sailing, or if we will be permitted to socialize after the races. All of these issues will effect the fees that we will be charging, especially the socializing since the beer tab is a large part of our program.
Should we decide to start our racing program during the month of July, I will mail the NOR's to all the fleet members at that time. These are all the decisions that we will have to make during the month of May. Nothing has been decided at this time
I hope you all stay healthy and that we will be able to resume our races in the near future.